3x Loyalty Points at Hippodrome Online Casino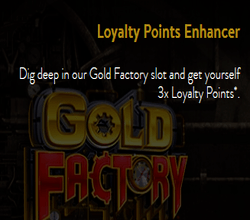 Resctricted Countries:
Afghanistan, Algeria, American Samoa, Angola, Australia, Austria, Belgium, Bosnia and Herzegovina, Bulgaria, Denmark, France, French Guiana, French Polynesia, French Southern Territories, Greece, Greenland, Guam, Guinea, Guyana, Hungary, Iraq, Israel, Ita
3xLoyalty Points, earned by playing the following games: Gold Factory.
The offer is valid from 12:00 BST on Wednesday 5th September, 2018 until 11:59 BST on Wednesday 12th September, 2018, and is open to Hippodrome Online Casino players.
As a member of Hippodrome Online Casino , you are exclusively invited to join the Hippodrome Online Casino Rewards Club, the loyalty club through which you earn Loyalty Points every time you play. Loyalty points can then be redeemed for FREE Bonus Credits, so rake in those points to start earning big!
CASINO LOYALTY TIERS
The Hippodrome Online Casino Rewards Club is structured on 6 Loyalty Levels (Red, Silver, Emerald, Platinum, Diamond and Privé). You can advance up the Loyalty Levels by playing frequently at the Casino, and with each progression comes better rewards. So, the more you play, the higher your Level and the more rewards will come your way.
Hippodrome Online Casino LOYALTY POINTS
You earn 5 x Loyalty Points for every £10* staked at The Hippodrome Online Casino. Game wagering will contribute in the following percentages:
100%: All Slots, American Roulette and all Parlor Games
50%: All Table Pokers, all Roulettes (except American Roulette), Red Dog, Casino War and Sic Bo
10%: All Video/Power Pokers (except All Aces Video/Power Pokers), all Blackjacks (except Classic Blackjack), all Craps and all Baccarats
2%: Classic Blackjack and All Aces Video/Power Pokers
HOW ARE LOYALTY POINTS EARNED?
– For every £10* you wager at The Hippodrome Online Casino, you will earn 4 Loyalty Points.
– Once you have earned at least 5,000 Loyalty Points, you can redeem them for Free Bonus Credits.
– 5,000 Plus Points = £10 in Free Bonus Credits!
– All redeemed Loyalty Points are credited to the Bonus Account.
IMPORTANT: If you do not redeem your Bonus Points in time they will expire. Bonus Points expire 90 days after they are earned.
*Hippodrome Online Casino Loyalty Points system is based on the GBP (£). This means that 5,000 Loyalty Points will now be worth £10, so when you redeem 5,000 Loyalty Points, £10 will be converted to your currency using the real time exchange rate.
Only one Loyalty Point promotion can be active on an account at any one time.