Make sure you have Air Mail! – Sloty Casino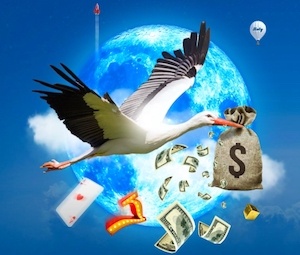 Resctricted Countries:
American Samoa, Denmark, France, French Guiana, French Polynesia, French Southern Territories, Hungary, Israel, Portugal, Romania, Samoa, Spain, Turkey, United States, United States Minor Outlying Islands, Virgin Islands US
Sloty Casino wants to ensure that you never miss a promotion. In the same spirit of ensuring that you are always aware of their latest services, exclusive promotions, massive bonuses and product updates, the Sloty marketing team came up with the Never Miss a Promotion offer.
What's the Promotion All About?
As you might have guessed, this promo is there to keep you up to speed with all that's happening at the casino. You'll need to subscribe to the casino's email services, and they'll send you only the relevant information that you ask them to send you.
Who's Eligible for This Promo?
All players who've signed up at the casino qualify to participate. However, only those who have deposited into the account are eligible to claim the bonus.
Benefits That Come with This Offer
By enrolling as a member, you stand a chance of winning or benefiting from any of the following things:
Payment Information – Whenever there's a new payment method or update included in the Sloty Casino portfolio, you'll get notified through the Air Mail promo.
Free Spins – You wouldn't want to miss out on the Sloty free spins offer. They are some of the best in the industry.
Deposit Bonuses – In addition to the regular welcome bonus, the casino offers players festive deposit bonuses from time to time.
Payment Promotions – To encourage its members to use a certain payment option, the Sloty gives you a percentage bonus every time you use the specified payment option.
Free Flight – The promotion couldn't be complete if they didn't include something that's relevant to the promotion's name. That's why they'll send surprise emails to lucky players to book a free flight to whatever destination globally.
Do you need to have an account to participate in the promo?
Fortunate for you, any person interested in the services offered at the site can subscribe to this promotion. In fact, non-members stand a better chance of receiving the enlisted promotions as the site tries to get you to sign up. However, the casino has a one email – one offer promotion policy that has to adhered to by all members who accept to partake in the offer. This means only one email is qualified to receive any promo at any given time.
Are your email and other information given to the website safe?
According to the terms and conditions clause 21.1, the website is required according to the Data Protection Act of 2001 (Chapter 440 of the Laws of Malta) to adhere to the data protection requirements. This means that the site can't send or use any of your personal information for other purposes without your consent – including your email information.
What if you'd like to change your email later?
It's simple, just contact the Sloty customer support team through the live chat or email them at support@Sloty.com with all the request and they'll be glad to help you.
I haven't received any information regarding promotions, what could be the possible reason?
Have you checked your spam folder? This is the most common reason why most emails don't reach your email. You can change this by adding Sloty Casino to your Safe Senders list.
How do I add Sloty Casino to my Safe Senders list?
Gmail
Log into your Gmail account
Click on the 'Spam' folder
Highlight the email send from the site
Click on the 'Not Spam' button to send it to your inbox.
All emails sent from the site will now be sent straight to your email instead of the spam folder. The procedure above also applied for Yahoo! Mail.
Apple Mail
Add the email address from the site to your address book
Log into your junk box and highlight the email sent from Sloty
Click on the 'Not Junk' button to send it to your inbox.