Everybody likes movies and we especially like casino themed ones. Over the years, we have watched too many of them about gambling and casinos. We know that some of you are interested in this specific genre too. Well, to make your job easier, here is our list of the best casino movies. Start with any of them, watch them all – this is our recommendation.
Casino
| | |
| --- | --- |
| Release Date | 1995 |
| Director | Martin Scorsese |
| Stars | Robert De Niro, Sharon Stone, Joe Pesci, James Woods |
| IMDB Rating | 8.2 |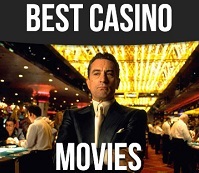 Ace Rothstein is an executive who manages one of the Las Vegas casinos, famous for its colorful nightlife and high-roller gambling. Rothstein has been trying to keep his job done properly and keep his credibility since the day he started this job. Until Nicky, a close friend of him, starts helping him in the business. When Ace, who is on his way to become a successful executive, falls in love with a mysterious woman, things become very "interesting". The director Martin Scorsese, who shot cult movies such as 'Taxi Driver', 'Goodfellas', 'The Departed' and 'Shutter Island', reveals the dirty laundries of the shiny Las Vegas in Casino. An excellent movie to start your journey. The film is very similar to Goodfellas, by the way.
Croupier
| | |
| --- | --- |
| Release Date | 1998 |
| Director | Mike Hodges |
| Stars | Clive Owen, Nick Reding, Nicholas Ball, Alexander Morton |
| IMDB Rating | 7.2 |
Jack (Clive Owen) is a man who dreams to become a writer. One day, he comes home and his girlfriend asks him how his day was. Jack says he sold his father's car and found a new job: He will work as a croupier in a casino. To learn the rest, you need to watch the movie. Croupier is definitely very successful in terms of scenario flow and editing. It is also nice to see a very young Clive Owen. There are not too many movies that show the life of a croupier and this film is exactly about this.
Hard Eight
| | |
| --- | --- |
| Release Date | 1996 |
| Director | Paul Thomas Anderson |
| Stars | Philip Baker Hall, John C. Reilly, Gwyneth Paltrow, Samuel L. Jackson |
| IMDB Rating | 7.3 |
This is the first feature-length film of Paul Thomas Anderson who has been nominated for six Oscars and one of today's most respected cinema masters. You can find this film under the name "Sydney" too. Hard Eight is a minimal example of multi-character narratives that will tackle in later films of Mr. Anderson. Philip Baker Hall in the "Sydney" role is especially successful: He always gives the impression of "something bad is going to happen soon". This is a movie filled with gambling, small details, good music and coherent fiction. Highly recommended.
Bugsy
| | |
| --- | --- |
| Release Date | 1991 |
| Director | Barry Levinson |
| Stars | Warren Beatty, Annette Bening, Harvey Keitel, Ben Kingsley |
| IMDB Rating | 6.8 |
New York gangster Ben Siegel, nicknamed 'Bugsy', takes a short business trip to Los Angeles. Siegel is a very successful guy when it comes to seducing women and he never steps back in order to take off his opponents. One day, he goes to Las Vegas on business, and a brilliant idea hits him… Bugsy is based on a true story from the same named book written by Dean Jennings. This is a good adaptation, and Warren Beatty plays wonderfully. If you are interested in gangsters' life in Las Vegas, Bugsy is a must-see movie.
The Hangover
| | |
| --- | --- |
| Release Date | 2009 |
| Director | Todd Phillips |
| Stars | Zach Galifianakis, Bradley Cooper, Justin Bartha, Ed Helms |
| IMDB Rating | 7.7 |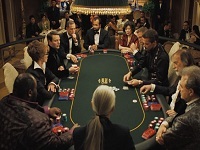 Having an unusual sense of humour, Hangover is a very entertaining movie that does not lean on the well-known Hollywood humour clichés. In the movie, four friends who went to Las Vegas to give a bachelorette party two days before their friends' wedding got drunk. And by drunk, we mean that they woke up the next day and saw a tiger, chickens and a six-month-old baby crying in their hotel room. Thing is, they have no memory of what happened. Now, they have to follow clues and find out what really happened while they were partying. Most importantly, they need to find the groom and reach to the wedding in time. This may not be a "casino movie" but it is about Las Vegas. In addition, it is fun as hell. The Hangover also made Zach Galifianakis a Hollywood star due to his amazing performance.
Ocean's Eleven
| | |
| --- | --- |
| Release Date | 2001 |
| Director | Steven Soderbergh |
| Stars | George Clooney, Brad Pitt, Julia Roberts, Matt Damon |
| IMDB Rating | 7.8 |
Robbing a casino may be as enjoyable as playing in it: That's what Mr. Ocean (George Clooney) aims to do. This is a remake of an older movie with the same name. The stars of the original movie were the "Rat Pack" (*), so it is considered as a cult movie. The remade version is still good and offers a lot of celebrities, just like the original. This is a casino heist movie with a twist at the end, and it has two more sequels. Watch them too if you like this one and get amazed how young Brad Pitt looks.
(*) Rat Pack: Frank Sinatra, Dean Martin, Sammy Davis, Jr., Joey Bishop and Peter Lawford. Humphrey Bogart called them "rat pack" because they were partying all day long and looked awful during the night.
Casino Royale
| | |
| --- | --- |
| Release Date | 2006 |
| Director | Martin Campbell |
| Stars | Daniel Craig, Eva Green, Judi Dench, Jeffrey Wright |
| IMDB Rating | 8.0 |
Casino Royale, directed by Martin Campbell, is the twenty-first of James Bond films, which is the longest series in film history. This is also the first movie Daniel Craig starred as James Bond. His task is to prevent Le Chiffre (Mads Mikkelsen) from financing the terrorists. He needs to beat Le Chiffre in a high-stakes poker game which is played at Casino Royale in order to do that. Don't ask us how – this is a movie and he is James Bond. He can stop the terrorists by playing a poker game. Casino Royale is an action filled movie which introduces us to the next version of James Bond and uses a casino as a background. You should definitely watch this one.
21 The Movie
| | |
| --- | --- |
| Release Date | 2008 |
| Director | Robert Luketic |
| Stars | Jim Sturgess, Kate Bosworth, Kevin Spacey, Aaron Yoo |
| IMDB Rating | 6.8 |
This is a true story. Six MIT students decided to create a "system" for blackjack and used that system to win hundreds of millions of dollars over the years. They were basically card-counting but doing that as a team and with advanced methods. The movie tells this story. And the best part is, it has a happy ending. What they were doing was not illegal, so the casinos could not do a thing even after they have exposed. In fact, they wrote a book about it, sold the movie rights, and won additional money. The students are in "blacklists" of all casinos in Nevada, so they cannot enter a casino. However, they can tell their tales. Watch this movie for this amazing story and get inspiration about how to count cards more efficiently. Because card counting is still a legal strategy.