Casual Connect Europe 2019 coming back to London this May. Submission to Indie Prize closes on March 20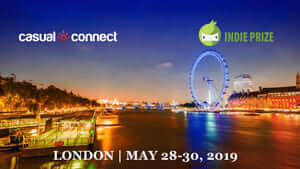 Location: The Queen Elizabeth II Centre, London, UK;
Date: May 28 – 30, 2019
Attendees: 1,000 gaming professionals
Speakers: 150 executives and experts
Indie Prize Showcase: 90 games
Website: http://europe.casualconnect.org/
After a successful event in 2018, Casual Connect, organized by CGA and Greenlit Content, is coming back to The Queen Elizabeth II Centre, London, UK on May 28-30, 2019. At Casual Connect Europe 2019, you'll have unlimited access to the meeting system to network with games industry professionals like yourself. All attendees get access to three days of lectures, official networking parties, and 90 of the world's best indie games with developers. The venue will also feature a large expo area where you can talk one-on-one with industry-leading companies.
INDIE PRIZE SUBMISSION DEADLINES
More than 1,500 developers apply to Indie Prize during the year and judges from throughout the games industry select the most promising games to participate at international Indie Prize showcases during Casual Connect conferences. Submit your game for the international Indie Prize London 2019 scholarship program before March 20 with more details can be found in the submission form. You can also join industry leaders as an established developer with the Developer showcase.
JOIN CASUAL CONNECT AS AN EXHIBITOR/SPONSOR
Expo and sponsorship options are available at the sponsorship form. 50% off Gold, Silver and Bronze sponsorship packages are available for developers and funding publishers only. Discounts on the Developer showcase and Developer pass are subject for approval.
SCHEDULED CASUAL CONNECT EVENTS IN 2019
Casual Connect Europe 2019 in London, UK | May 28-30, 2019;
Casual Connect USA 2019 in LA, CA | August 27-29, 2019;
Casual Connect Asia 2019 in Shenzhen, China | November 10-12, 2019;
Casual Connect Eastern Europe 2019 in Istanbul, Turkey | TBA;
CONCLUSION
Casual Connect brings together the most talented and knowledgeable experts in the gaming field to further the industry with the best learning and networking opportunities for gaming professionals since 2005 four times every year in USA, Asia, Western Europe and Eastern Europe. For more information visit Casual Connect and Indie Prize official websites and check out Casual Connect's official YouTube channel with videos of lectures.
Thank you for your time! If you have any questions or need further material feel free to contact us at any time via:
E-mail: moshkaryova@greenlitcontent.com
Facebook: https://www.facebook.com/yuliya.moshkaryova