The fact that today there are so many different casino promotions also brings more rules and engagement. Various ways in which bookmakers attract new bettors insert more complicated terms and conditions under which players can actually benefit from numerous gifts. One of them are wagering requirements. As you are probably already acquainted these regulations make the essence of the gambling experience. They actually determine the things one must do to withdraw prizes or use a specific bonus. They are a necessary part of every casino`s policy. There is no gambling house that does not have at least one bonus with special demands. Afterall, even the free bonuses are not completely free, just more lucrative. Basically, a rollover or wagering are set of rules, so called multipliers that show the number of times bettor has to playthrough a certain amount of money before being eligible to take any winning cash from the account.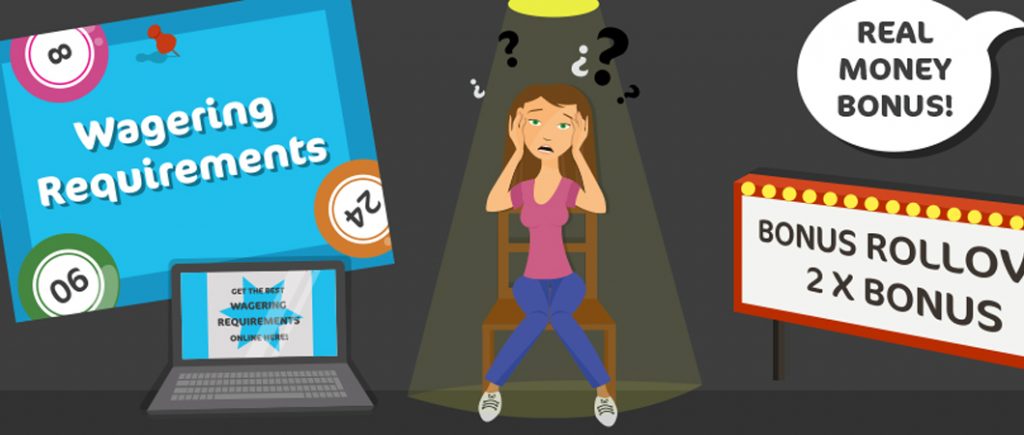 Why Even Bother to Meet the Requirements?
First of all, you have to understand that these conditions are the way casino houses protect themselves. Without having these the majority of bookmakers would dry out very fast or would not be able to provide the wide range of gifts for the bettors. Also, the risk management is organized towards prevention of bonus hunting. Not everyone is fair so there are players who would just take the free money bonus after the registration and leave the casino. Of course, the terms given by the gambling house are not always easy to fulfil. If we take the numbers into a consideration, imagine a matching bonus, of 100% upon the first deposit of $100. So, the basic amount is $200. Hypothetically speaking, the wagering is 40x which makes a total of $8,000 playthrough. Have in mind that there are bonuses that are smaller and the higher requirements (approximately from 20x up to 50x). Furthermore, note that not all the games contribute the same to the bonus, so you can not simply play what you want. This is especially tricky when a product brings negative expected return. Because the more you invest, practically, the less you get, so be careful about that fact.
Things One Can Do
To be quite honest, the first thing anyone can do is to carefully explore bonuses with the zero wagering requirements. Read about them, collect all the useful information about the conditions and then make a decision. Surely, these are more than rare, but there is a pearl in the sea of best bonuses to find, here and there. Other than that bettors can do several things:
Opting OutAs the name of this possibility speaks for itself, the bonuses offered by casinos are optional. If in any case bettors think the conditions are to strict for their skills they do not have to accept all terms and conditions. Sometimes this procedure is very simple but at houses one would have to go through more complicated way. Note that after betting for the first time when opting into a bonus, there is no alternative method for players to give up without consequences.On the other hand, when one rejects a gift, with the same profile he/she can not re-enter it;
The ContributionThere is a wide selection of games that contribute 100% to the requirements and bettors can freely choose their favorite. These can be combined with low/medium volatility pieces. This is a good method to minimize the potential losses and gain smaller but more seldom wins that will ensure the faster way to the money;
Smart SpinningTake care of the stakes. Even though there is no limit, play low profile while usually you will have to play a lot.
Stop What You are Doing
Always have in mind that even no deposit casino offers come with some conditions. To the road od claiming the bonus and activating it gamblers have to respect certain rules. On the other hand, they have to avoid particular actions, such as:
IllegalityAny kind of misbehavior carries serious consequences. Trying to outwit the system is never a good idea. The best outcome if they caught you would be banning from the gambling world. Not to mention fines and a criminal record;
RegisteringThere is no chance to sign up, pick up a bonus and simply go home. Gambling houses have protecting systems in that case, so watch out;
The Bonus Abuse The whole point of wagering is to fulfill it. So, it is impossible to try to cash out the bonus before that moment. You will not be able to withdraw the money from the account and there is a big chance you will put up with some consequences. Some bettors were left without any funds. Always play fair. Met the conditions, the determined number of times of playing or the particular amount you are supposed to gain with received gifts;
The games You can choose only the products that contribute to a wager. To be more clear, this is not an obligation. In case one just wants to play. But if a bettor desires a specific potential bonus, than this rule has to be respected. The recommendation is to play slots that carry great bonuses. The Roulette is not a bad option for the table game lovers;
Check, Check, Check
The important thing is to know at anytime just how much more do you have left to wager. This can be viewed on the screen, in the Cash Balance link, usually at the top of the display. Simple click on it will show current state and just how much money needs to be invested. In this table, players can see different amounts, such as Pending Winnings from Bonuses, Casino Buy in Balance, Total Playable Balance and others. Furthermore, you can have full insight into free bets. For the time being this option is not available on mobile phones. It is a bit of a downside, but, hey, there is a possibility for you to check everything out as soon as you get to the PC.
Safety Comes First
Always have in mind that the moment of accepting or rejecting a bonus is crucial for the future gambling experience. In the case of acceptance, bettors can not act like not being aware of terms and conditions regarding a promotion. However, therefore it is important to choose those casinos with transparent rules so do not remain misled. There are companies that are blacklisted so it is not such a bad idea to consult even various forums of simply search the web before signing up. The clear information about all the currently possible rewards can be found on the web page under the specific sector. Of course, bookmakers will not advertise the strict stuff, but if you notice you can not find all the necessary information do not assume there are no additional rules. Also, do not just simply leave the casino if other things are good, like the game library or the bonuses. Just contact the customer support system and ask anything. In addition, always read about the certain bookmaker. Learn about the license and trustworthiness. You can take a look at helpful casino reviews or player`s impressions.