The heart of London's West End and a home to the largest international-style casino in the United Kingdom, Hippodrome Casino is one of the busiest and most successful entertainment venues in the country. It is open 24 hours a day, every day of the week, including Christmas. You do not have to register in advance or do anything to enter the casino for that matter. Feel free to stroll in, unless you look suspiciously underage, in which case you will be asked to provide an ID. After that, prepare yourself for the overwhelming impressiveness and the sheer size of the main area.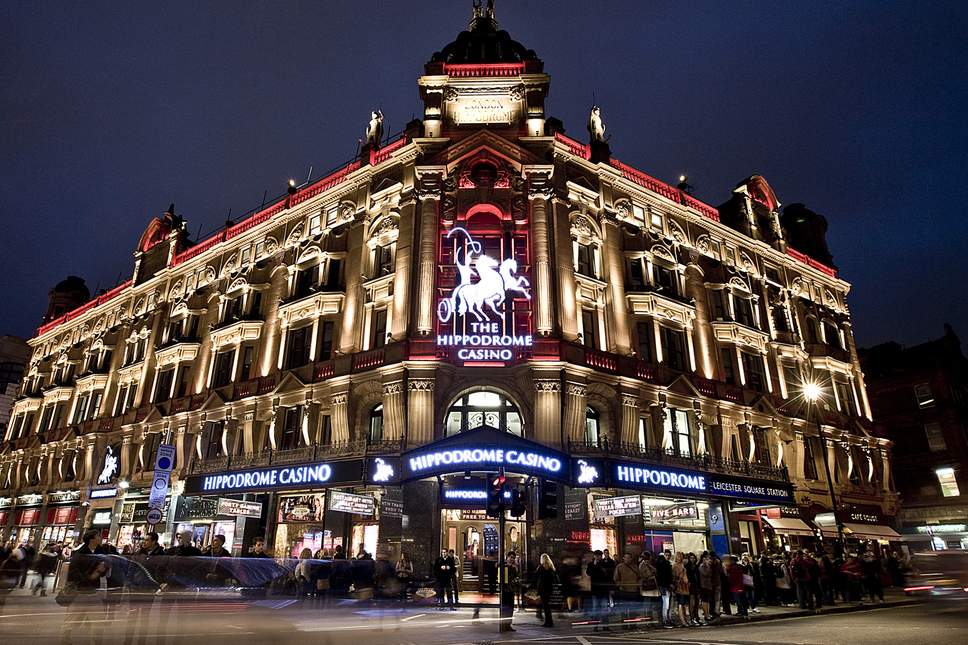 History
Originally intended as a circus in 1900, Hippodrome has had a long and varied history. In 1909, it was expanded to host a wider selection of theatrical activities. In the following years, it maintained its prominence as the cultural hub of London. The biggest event at the time was the first performance of Swan Lake in the country. Another important show was held by the revered performer Harry Houdini.
In 1958, Hippodrome became a famous nightclub known far and wide as Talk of the Town. During this period, many contemporary artists visited the club, including Frank Sinatra, Judy Garland, Stevie Wonder, Tom Jones, The Shadows and plenty of others. During the second half of the century, this location lost much of its popularity.
Finally, in 2012, the Hippodrome Casino was opened, after a series of renovations and modifications to the existing structure. One year later, it was already raking in awards and trophies.
Hippodrome Gaming Hall
Hippodrome is not only the home of a three-storey gaming area, but it is also one of the best-equipped casinos in the United Kingdom. There is a huge selection of games to choose from, ranging from common casino games such as Blackjack, all the way to Baccarat and Dice.
Here is a list of all the games and the number of available tables in the casino:
| Game | Tables |
| --- | --- |
| Blackjack | 17 |
| Roulette | 16 |
| Three Card Poker | 4 |
| Baccarat | 4 |
| Commission-free Baccarat | 3 |
| Dice | 3 |
| Pai Gow | 1 |
| Casino war | 1 |
For those who prefer slots, there are dozens upon dozens of slots and electronic machines to choose from. They come with a variety of games, each more visually impressive than the previous one. Atronic Diversity machines come with some excellent games such as Sphinx Wild, Jungle Loot, Goldify etc.
There is also a poker area where you can take part in tournaments ranging from the low-entry event all the way to Pro Tours and Championships. Competitors in more serious tournaments can win up to £30,000. Thanks to association with Pokerstars Live, you can play both no-limit Texas Hold'Em and Omaha.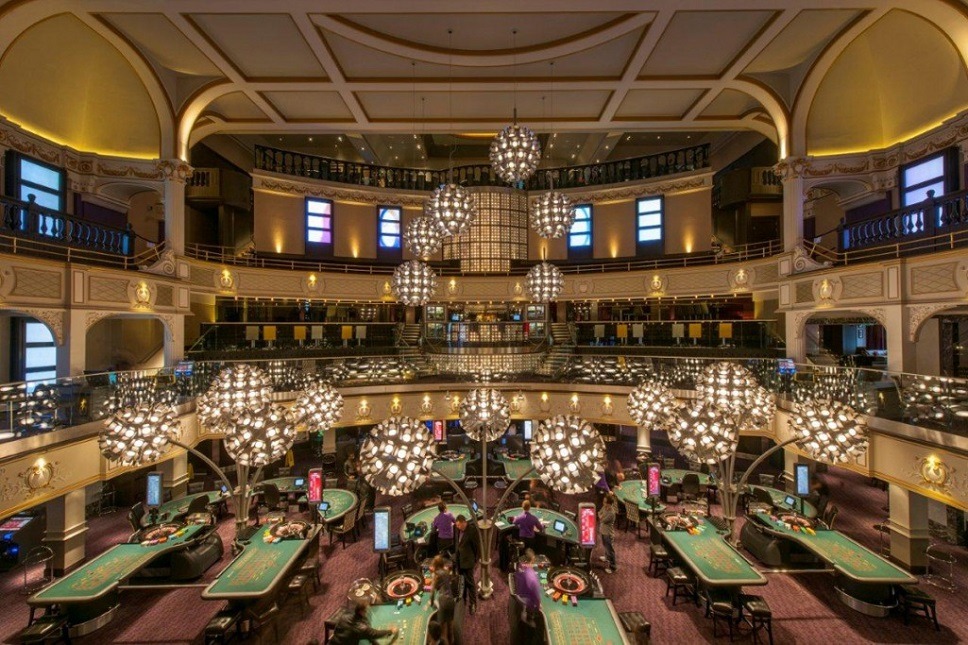 Hippodrome also offers an online casino that is accessible from a mobile device as well. Make sure that you check out their welcome bonus! They have an extensive collection of games, including video slots, roulette and blackjack. Some of the famous slots available at their online casino are Mega Moolah and Major Millions. You don't have to worry about security, as all of your online transactions are protected by SSL Digital Encryption.
Hippodrome Casino Promotions
|  Promotion | Terms&Conditions | Reward |
| --- | --- | --- |
| Super Pairs | Win at 50/1; available in Cranbourn Club; £5 is minimum bet | Cash |
| Balckjack 11's | Stake £5, the winning combination is "11" as the total sum of first two cards. | Cash |
| Three Card Poker Progressive | Minimum bet is £1. Mini Royal Jackpot Hand- Queen Diamonds/Ace/King | Cash |
| Instant Rewards | Eligible for slots and electronic games. You should sign up to Hippodrome Rewards | Cash, Food&Drink, Comp Points, Free Play, Exclusive Prizes |
| Grab The Yellow Jersey | Everyday rags at 7 a.m and 2 p.m. | Play rake free +/get yellow jersey |
| Red 8 on Baccarat | You can play Red 8 and Red 8 plus on Baccarat every day, all day long at Baccarat Pit | £200 max bet on Red 8; £250 max bet on Red 8 plus |
| London Leaderboard | Earn points just for participation in any main live tournaments (weekend or daily) | Free entry to PokerStars; monthly prizes; an overall year winner will represent the casino at UKIPT |
Entertainment at Hippodrome Casino
Aside from every possible game that you could try your hand at, Hippodrome has an exquisite 180-seat Music and Cabaret theatre, which hosts a series of events. Probably most famous of these events are jazz and comedy nights, and if you are really lucky, you might even run into an Elvis night.
If comedy nights are up your alley, you should probably take a look at Comedy at Hippodrome, an event that takes place every Wednesday.
Saturdays also offer you quite a treat, when casino brings in the Neo-burlesque performer and dancer Miss Polly Rae.
On the lower level, you will find some old-fashioned adult entertainment, provided by gorgeous dancers and performers at the aptly named Lola's Underground Casino. However, don't expect anything indecent, because even this part of the house is quite stylish. Also, this part of the casino has another exit, which leads to China Town. There is an outdoor terrace overlooking the entire house, equipped with a couple of games where players can smoke and hope for a jackpot at the same time.
Last year the theatre was undergoing a huge transformation in order to be prepared for the biggest opening event of the year – Channing Tatum's Magic Mike Live.
Currently, you can go to this breathtaking performance just having bought the ticket. This entertaining show was developed by Channing Tatum, and boasts about different dance and acrobatic plays. The Channing Tatum's show is the perfect place to spend exciting time with your friends or just alone.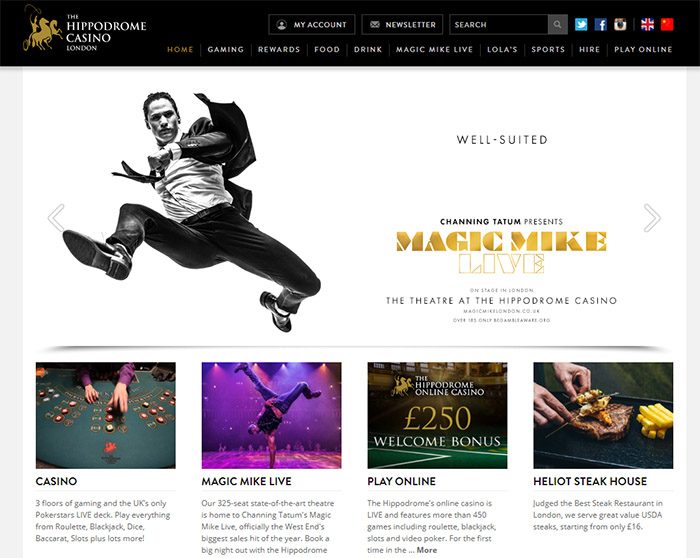 Food and Drink
The award-winning Heliot steakhouse overlooks the central area of the gambling house. It opens at 17 p.m. and offers many different specialities on their menu, and also quite reasonably priced. Right next to the restaurant, you can have a drink at the Heliot cocktail bar.
There is a total of six bars that are sure to have your fix. You can drink anything you like, whether you're looking for a cold beer, expensive bottle of wine or even a fancy cocktail. Most of the bars are open until late at night, with the exception of one bar which is opened 24/7. Feel free to visit the Boozy Tea Room, an area designed by the same team behind Magic Mike Live. Here, you can try tea-based cocktails and other treats.
Other Information
Directions
There are several ways to get to Cranbourn Street, Leicester Square in London, where the Hippodrome casino is located.
Underground StationsSeveral underground stations are available in the vicinity of the casino, including Leicester Square, Covent Garden, Piccadilly Circus and Charing Cross. Leicester Square is the closest one and serves two lines, Northern and Piccadilly.
BusBus lines that service Charing Cross Road include 24, 29, 176, N5, N20, N29, N41 and N279.
TrainIf you go by train, you should get off at Charing Cross, although Waterloo station is also an option as it is not that far.
CarThe China Town park is located very close to the venue, at 20 Newport Place. The casino offers 20% discount on parking with Q-Park, so if you're arriving by car, make sure take a look at their website beforehand.
Dress Code
Make sure that you aren't wearing anything that would disguise your appearance, which means no funny hats! This is a security measure and should be respected as such. Aside from that, you can wear relaxing clothes, as the dress code of this casino would be best described as smart casual. You are free to wear jeans and T-shirts or whatever you feel yourself comfortable in, but your appearance must be acceptable for general public and mustn't offend others.
Accessibility
Hippodrome has been very considerate towards people with disabilities. Essential Companion scheme allows disabled people with an access card to bring a companion for free. For those who are not familiar, the access card costs £15 for 3 years and serves as proof of disability in multiple venues in the UK. Based on information found on this card, staff will be able to assist you and your companion better.
Conclusion
The matter of fact is that this place is not just for gamblers, it is also for anyone looking for a great night out in London. Whether you're looking to grab a bite or enjoy a burlesque show, this gambling house has got what you need. If you've never been to the Hippodrome Casino, now is the time to go online and take a look at all their fantastic offers and promotions.