Well, let us introduce Nick to you, this is NickSlots's real name. NickSlots is a famous casino streamer and one of the first generation of his kind in the UK. He hails from Yorkshire and has a prominent position as the foremost UK gambler with his NickSlots site, NickSlots Twitch and YouTube channels. In recent years there has been a rise in casino streamers, and many wanted to become popular as NickSlots, indeed some actually did. However, what is peculiar about Nickslots is that he is a pioneer of a casino streaming and many famous casino streamers taught from him. Casino streaming channels, including Twitch Nickslots, have grown in popularity since many people love the thrill of gambling games, and when they watch the gambling process performed by another gambler for his own money, they feel as if they also participate and are a part of the winning or losing experience without having invested their own money.
Themed channels also comprise of communities where members can chat about what is showcased on the screen, games being played and other related topics important for online casino. It brings in the feeling of being a member of a virtual community or being among followers for a successful and growing online casino streaming service.
About NickSlots in the UK
NickSlots has gathered a lot of interest, being one of those who have started their channels in the early years of Twitch gambling stream among the British audience. As per his biography, he has grown up playing fruit machines by the seafront in Scarborough, Yorkshire and has been a part of CasinoGrounds. After that, he discovered the world of online slots where there were more options to gain more wins, and this is where his dedication begins.
As a young adult, he is into cars and gaming. His is interested also in motorsports and cars, because his dad has been a mechanic and he had seen him build different cars as he grew up. Nick currently owns a unique one himself, Audi S4 that is fitted with an exhaust system of AWE Motorsport along with EPC carbon intake system. He plans on upgrading the car he owns and get his hands on Audi RS6.
NickSlots UK and His Activity
He started to showcase slots from February 2016 for UK players. Initially, he dabbled in PC games after which he started to show sessions live on Twitch. Since then he has hit a three-year milestone. During that tenure, he has showcased several casino games and released tutorial videos also on YouTube.
When NickSlots channel was started as a live stream on the Twitch, there were only 30 viewers. Since then it has grown significantly, and many members have remained regular. In the present year of 2019, the average viewers crossed 1300. The current number of subscribers on Youtube is 30,315 and 21,249 on Twitch.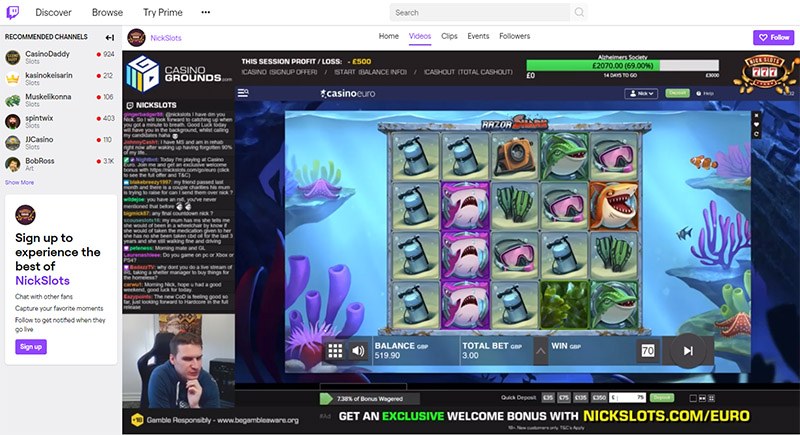 Favourite Slot Machines
The latest slots that he finds his favourites are the following:
This is a title by Big Time Gaming. There are free spins, 3x, 6x wilds in the base game that provides large jackpot. NickSlots proposes that you keep a lookout for the top wild symbol that appears on reels 1 and 5.
This title by Blueprint is another that NickSlots votes for. The reason being, with a mere wager of £5 it can lead to giveaway as high as £27,000.
This is another one by Push Gaming that Nick feels has a right to be on the top positions this year. This game has proven to be thrilling to his audience who watch it being played live. The visuals are great, and when the jars connect in the bonus hunt, then a massive multiplier comes in to provide winnings.
He promotes slots and casino stream of Calzone, Casumo and other top best sites for online gambling streamers.
Achievements on Twitch
Live streaming was first tried by Nick on this platform in 2016 and in the first live stream itself there were 30 viewers. The platform offered the distinct advantage of bringing in the attention of casino gamblers and enthusiasts to this platform. Viewer numbers began to increase week after week. Subscription feature was made available so that users can be notified when to watch a new live slot streaming or have favourite recorded videos saved.
NickSlots subscribers or Twitch streamers are able to view actions of a player via a webcam, using real or fake money. By 2019 the average number had crossed 1300 on this platform as viewer interaction and engagement was high and grew steadily.
Statistics of Twitch
Twitch has gained popularity since 2011 and has helped Nick to hold a large audience even today. It has several achievements that make it a popular platform in the live gaming segment in the UK:
NickSlots has been live since 2016 with the online streaming of playing casino games on Twitch;
There have been generous donations provided by followers every year;
Over thousands of followers have joined him regularly since he has created the account;
Users gain viewer points on this platform;
After five months of continuous streaming, 5 days in a week, the channel reached 2nd position.
Is NickSlots Fake?
Many wonder how real Nickslots is. This domain is one of the first of the live streaming gambling domains set up, and it definitely gathered a lot of interest among the online gaming enthusiasts, also as Nick Slots YouTube and Twitch, that can be a proof of the fact that this casino streamer was achieving his success steadily.
Clips of NickSlots casino streamer can be found at a dedicated page on YouTube and Twitch. Followers can find live streaming here from Monday to Friday. There are giveaways, and exclusive bonuses that one can avail of that are posted with links to the Casino grounds platform. The stream has increased its viewership with many people enjoying being a part of the winning or losing experiences. Nickslots is not a scam, it is a Casino affiliate, and it means that Nick just promoting and sending customers to casinos he is in affiliation with, but he spend his own money and do not play demo versions.
Round-up
If you wish to know how different casino games are played step by step, understand the strategy, investigate winning combinations, then check out NickSlots YouTube and Twitch channels.