Aspers operates five physical casinos in the UK. The one on the top floor of the Westfield Stratford City building in London is the biggest casino in the country. It houses at least 40 tables for roulette and blackjack, 92 gaming terminals, 150 slot machines, and 150-seat poker tables.  It operates 24 hours a day and is also home to two bars and a restaurant.
Company Profile and History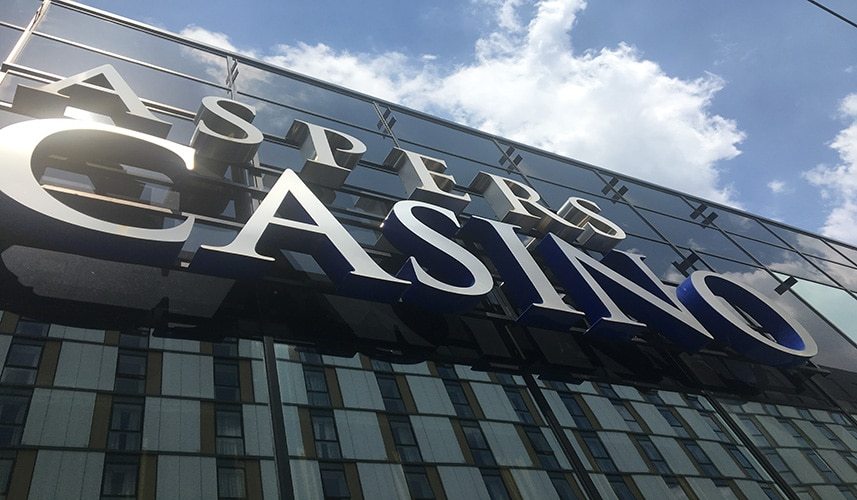 The company is a privately held corporation established back in the 1960s. The founder's name is John Aspinall, known by his friends as Aspers. The official company name is Crown London Aspinalls and it is currently headquartered in Curzon Street, Mayfair, London.
Today, the company is owned by Crown Resorts, an Australian gaming company that holds 50% stock interest in Aspers. Here are the four locations of Aspers casinos in the UK.
Milton
Westfield Stratford City
Northampton
Newcastle
Services Offered by Aspers


The company is more than just a casino. It operates complex structures that house not just gambling facilities but hotels and restaurants, too. Below are the things you can expect from your visit.
The List of Activities at Aspers Casino Grounds
| Gaming | Entertainment | Dining & Bars | Sports Broadcasting |
| --- | --- | --- | --- |
| Poker, Three Card Poker | Party Packages | Clary's Restaurant | Football Matches |
| Roulette | Jackpot Mondays | Sky Bar | Rugby Games |
| Blackjack | Meal Deals | Tanzibar Sports Bar | Tennis Games |
| Slot Machines | | Roof Terrace | Cricket |
| Punto Banco | | | Motor Sports |
| Super Wheel | | | NFL |
Casino Games
The casino requires proof of age upon entry. You must be at least 18 years old before you play. If the management thinks that you are less than 25 years old, you need to present an ID. The same rules apply if you will deposit or cash out chips worth over £1,000.
Membership in the casino is not required. It is open 24 hours a day and anyone can play. However, membership is needed only if you plan to be a part of the VIP club. Please mind that you cannot bring your mobile phones and electronic devices near the gaming tables.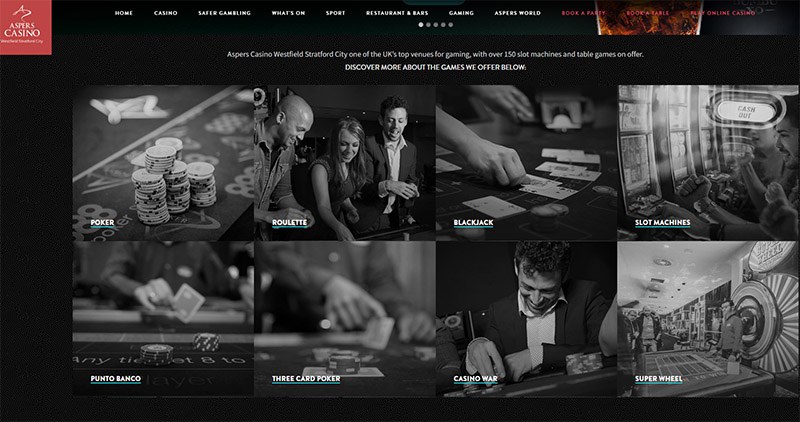 Here are the games available in the casino:
Poker – the casinos host different regular tournaments. You can also play casually if you do not want to be heavily invested in the games. The buy-in amount ranges between £40 and £100, and you can win as much as £2,000 in the tournament. Most of the starting stacks for poker are around £10,000. There is also a progressive jackpot to be won and you can bag as much as £5,000.
Blackjack – the tables operate on two different decks. One has six decks and the other has four. In the casino, just walk up to any blackjack table with your chips and play.
Roulette – basically, the house edge for even chance bets is 1.35% and, if the ball lands on zero, the player retains half the stake. All outside bets lose, if the ball lands on zero or double zero.
Slot Machines – the machines here do not require a membership card. Just insert bills and you are ready to go. You can use £5, £10, £20, or £50 bills. If you are done and you are ready to cash out, just press the Cash or Payout button and a receipt will be printed out of the machine. You need to take this receipt to the redemption terminal where you can convert it to cash.
Electronics – there are electronic terminals spread out in the casinos where you can play a myriad of games like roulette, blackjack, WAN, and so much more. In these games, you are not playing with a live person. It is pretty much like playing on a slot machine, but the games are different.
Punto Blanco – this is a card game that is similar to baccarat. In Aspers, the house edge is 2.33%.
Three Card Poker – to play this, you need to buy tokens at the gaming table. The house edge for the different bets are:

Ante and Play 2.0%
Pair Plus wager 2.7%
Prime wagers 3.6%

Super Wheel – this is a huge wheel with 52 equal compartments. You need to cast your bets on a betting table before the dealer spins the wheel. If the wheel stops at the same number you wagered on, you win.
Poker Promotions
| Promotion | T&Cs |
| --- | --- |
| Progressive Poker Jackpot | Venue: Aspers Westfield Stratford City Poker Room. The jackpot starts from £5,000 with no upper limit |
| High Hand Tuesday & Thursdays | On cash games from £1 and £2, and above. £200 is paid every three hours. Cash game rake for £1-1 cash game – 10%; Cash game rake for £1-2 and above Cash game is 5% |
| Cash Game Loyalty Bonus | £1 will be taken from every £20 cash game pot. A player receives points if contributes to any cash game table. The 200 most loyal players will be selected for the playoff tournament |
| Weekly Tournaments | No registration fees applied. Each 15% of regular prize pools will be contributed to Reg Return Final prize pool |
Sports Bar
All the casino locations show major sports events. You can watch them on huge HD screens in the sports bar while enjoying your favourite drinks.
The Tanzibar is a 24-hour sports bar that shows major sporting events. You can drink a variety of beers and cocktails while also enjoying snacks. Examples of games shown on the HD screens are:
American Football and Soccer (NFL)
Major League Baseball
Basketball (NBA)
Hockey (NHL)
Football (UEFA Champions League, Premier League, FA Cup, European Championships & FIFA World Cup)
Rugby
Restaurants
The sites offer different cuisines. In Westfield Stratford City, you can enjoy drinks at the Skybar in the open roof terrace. This is also an area where you can enjoy the nightlife and have parties for your birthday or for office occasions.
Hotel
Players can get ample time to rest at the spacious units within the casino complex. In Westfield Stratford City, the hotels are operated by Holiday Inn and Staybridge Suites. Guests can enjoy free WIFI, amenities like fitness centres, and other services like spa and beauty treatments. Members of Aspers Casino can enjoy a 12% discount on hotel rates.
The Aspers World


Should you decide to be a part of the Aspers casino club, you can join its loyalty program called the Aspers World.
The loyalty program has three tiers. These are Voyager, Gold, and VIP. Your tier will increase as you visit the casino and play more often.
Here are the benefits of being a member.
Card – you will be issued a card that you can use in all slot machines, table games, and electronic games. Instead of inserting paper bills, you just need to insert your card for as long as it has adequate funds. You can also use your card when paying for your restaurant and bar bills provided that the establishment within the casino complex supports the program.
Discounts – Aspers is in partnership with other institutions. You can use the card to avail discounts from these partners. An example is a 50% discount in the Port Lympne Reserve. You can get the same at the Howletts Wild Animal Park. If used in the hotel, you can get a 12% discount if you book online.
Other Benefits – below is a list of the other benefits you can get by being a member of the Aspers World Club. Note that different tiers have different privileges:

Free cloakroom and a free game in the Super Wheel.
Special offers exclusive to members
Complimentary soft drinks when you are gambling
Birthday gifts
Free entry into game tournaments
Between 25% to 100% discount in participating restaurants and bars in all Aspers Casinos.
Summary
Aspers is a huge conglomerate of entertainment facilities. It caters not only to the gambling community but it also focuses heavily on nightlife, music, and parties. Most of its bars are the usual spots for professionals who just want to unwind after a hard day's work.
Aspers, however, does not have shopping malls or arcade facilities for children. The market for the casino consists of young adults and middle class to wealthy individuals who want to have a taste of what high-end entertainment is like. It is not fit for family events.
On top of the four locations, Aspers has already ventured into online gaming and you will find many games in their online casino.