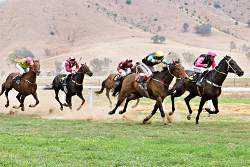 Zeljko Ranogajec has made the headlines across the globe, after he was named as the world's biggest and most prolific gambler. Ranogajec, who has never topped any rich lists, was recently named by bookmakers as the world's biggest gambler, after it was revealed he account for 6-8% of Australian bookmaker TabCorp's $10 billion revenue. In real terms, this means Ranogajec annually contributes a whopping $600-$800 million in bets. The Australian Herald Sun has reported that Ranogajec owns a worldwide, "24-hour, seven-day" gambling operation, which has a total betting spend of over $1 billion a year.
Ranogajec is believed to contribute millions more to other local bookmakers and online betting websites and according to reports, employs between 30-100 staff to "analyse form" for him. Preferring to bet on Australian horse races, Ranogajec first made his name as a pro blackjack card-counter in the 1980's. Apparently feared by casinos across the country, Ranogajec was turned away from gambling venues such as Wrest Point and Jupiters Casino, after he used his mathematical skills to beat the house. It's believed that after "burning out", a term commonly used to refer to card-counters who have been spotted by most, if not all, casino security staff, Ranogajec turned to sports betting.
In 1994, Ranogajec made the news when he won a then world-record jackpot of $7.5 million on Keno, but now focuses his attentions solely on sports betting. Taking advantage by "betting large amounts on small margins", Ranogajec and his crew of sports betting experts allegedly look for "large betting pools" which contain the cash of "mug", or average just-for-fun sports bettors. Unsurprisingly, Ranogajec has refused to comment on his status as the world's biggest gambler.